About Us
JON
While studying Civil Engineering at Rowan University, I never gave a thought to starting a deck company in New Jersey. That was until my summer job in 2004, when I realized my passion working with a local construction company that specialized in deck building. I have always taken satisfaction in a job well done. To me, there is no greater satisfaction then stepping back when a job is complete and admiring what I have accomplished. This is the reason I love building decks.
During that first summer I was earning my stripes as the kid getting coffee, running to the truck for tools and cleaning the job site. By 2006 I was a sales representative for the company and building the projects I sold. From digging holes to dealing with regional material reps, I was able to experience every facet of deck building. Since 2004 I have designed and built award winning custom decks and have assisted with over 200 projects from concept to completion. Almost every project has been built alongside Scott Winchell, and in 2008 we established J&S Decks together.
Away from deck building I am an avid sports fan and participant. I am completely addicted to golf and the challenges the game presents, but still find time on the basketball court and baseball field.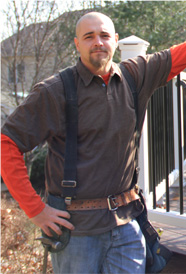 SCOTT
When not in the field building decks, I spend my nights and weekends as a professional musician. I like to think of myself as a fairly accomplished drummer, playing in some of New Jersey's top bands. I also find time to restore and customize drum sets for other musicians in the tri-state area.
Whether I am building decks, playing the drums, or restoring drum kits, precision and craftsmanship are of the utmost importance to me. Unlike other trades, deck building allows my carpentry skills and attention to detail shine with each project J&S Decks builds.